Nettie's Vegetarian Kitchen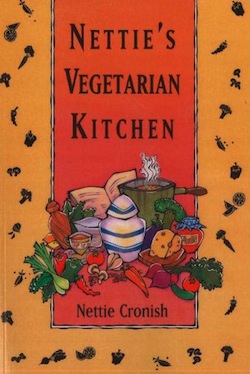 Nettie's Vegetarian Kitchen is full of useful information, including a glossary, how to set up a natural foods kitchen, and information on ingredients and cooking methods. A nutritional analysis accompanies each recipe providing accurate caloric, protein, fat and carbohydrate amounts per serving.
You can have fun and eat well with vegetarian food. Popular vegetarian chef and cooking instructor Nettie Cronish pairs fast, easy-to-use ingredients with simple cooking instructions that emphasize the use of fresh herbs, vegetables and fruits in the preparation of appetizers, salads, dressings, soups, main courses and desserts.
"A superb book by an expert." — Toronto Star
"Nettie's Vegetarian Kitchen is an essential reference." — Canadian Living
"Nettie's deliciously varied, easy-to-follow recipes are ideal not only for vegetarians but for anyone who wants to introduce more healthful cooking into their meal planning." —Homemaker's Magazine
Written by: Nettie Cronish
Category: Cooking, Vegetarian
Format: Trade Paperback, 232 pages
Publisher: Second Story Press
ISBN: 978-0-929005-80-5
Pub Date: 1996
NEW: Now available on iTunes!