Nourish: Whole Food Recipes featuring Seeds, Nuts, and Beans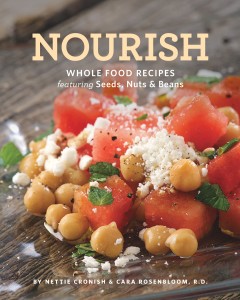 Eating well doesn't hinge on a pinch of calcium here and a dose of Vitamin C there, it's about eating a variety of whole unprocessed foods that are close to nature. And, of course, everything must taste amazing!
Nutritious, delicious and underutilized, beans, nuts and seeds are more flexible than their reputation suggests. Vegetarian chef Nettie Cronish and Registered Dietitian Cara Rosenbloom have combined their talents to incorporate these vegetarian protein sources seamlessly into familiar foods with family-friendly ideas like using cashew butter in a dip, crusting salmon with sesame seeds, or making pesto with cannellini beans.
You don't need to be vegetarian to reap the health benefits these whole food ingredients. In Nourish, everything from chia and flax seeds to creamy almond butter to versatile chickpeas and black beans are added to meat and vegetarian dishes alike.
You are sure to find a few new favourites in this well thought-out book whether it is Moroccan chicken and pistachio-studded quinoa, black bean breakfast burritos, or beets with spicy goat cheese and pumpkin seed pralines.
Nettie Cronish is a vegetarian chef, culinary instructor and cookbook author. She is the former chair of the Women's Culinary Network and a board member of Fair Trade Canada. She lives in Toronto with her husband and three children.
Cara Rosenbloom is a passionate foodie and a Registered Dietitian. She was the dietitian at Canadian Living for six years and makes regular appearances on Breakfast Television, CTV News, and The Morning Show. She lives in Toronto.
Author: Nettie Cronish & Cara Rosenbloom
ISBN: 9781770502437
Publisher: Whitecap Books Ltd.
Publication Date: February 6, 2016