How to Buy and Soak Beans From Scratch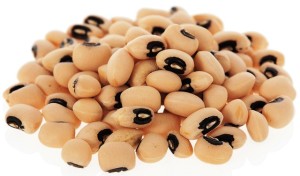 Buy: Beans last a long time, but older beans take longer to cook. Packaged dried beans may have helpful expiry dates, but bulk beans probably do not. If buying in bulk, purchase your beans at a store where they are sold and restocked often. Choose beans that are bright in colour and uniform in shape, and avoid packaged beans that are discolored, chipped, split, cracked or have a musty smell.
Soak: Save cooking time by soaking your dried beans first. Bonus: soaking beans helps reduce the starches that cause unpleasant gas and bloating. Never cook your beans in their soaking water; it contains the indigestible natural sugars that cause gas.
Soaking Time:
4 hours — Aduki beans, Black beans, Black-eyed peas
8 hours or overnight — Chickpeas, Fava beans, Kidney beans, Pinto beans, small red beans

Try out one of these recipes featuring beans:
Bruschetta with Black Bean Puree, Tomatoes and Arugula
Penne with Chickpeas, Spinach & Roasted Asparagus
Broccoli Black Bean Salad