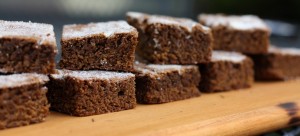 Not quite a cookie, but fabulous book ends for an ice cream sandwich. Moist and flavored with brown sugar, these Gingerbread Bars can be cut into 24 pieces or larger pieces for other uses.
Makes 24, 2-inch bars
Preheat oven to 350°F
Ingredients:
1 rimmed baking sheet, lined with parchment
2 cups all-purpose flour, divided
2 tsp ground ginger
1 tsp ground cinnamon
¼ tsp ground cloves
½ tsp baking soda
½ tsp salt
½ cup plus 2 tbsp non-hydrogenated shortening or unsalted butter, room temperature
1 cup lightly packed dark brown sugar
5 tbsp granulated sugar, divided
2 large eggs
¼ cup molasses (unsulfured)
Method:
Sift flour into a medium bowl. Remove 2 tbsp to a small bowl and set aside. Stir ginger, cinnamon cloves, baking soda and salt into large amount of flour.
Cream shortening, brown sugar and 4 tbsp granulated sugar until fluffy. Beat in eggs, one at a time. Stir in molasses. Add flour-spice mixture to butter mixture and beat to blend.
Scrape batter into prepared sheet. Sift remaining 2 tbsp flour evenly over batter. Sprinkle evenly with remaining 1 tbsp granulated sugar. Bake gingerbread in preheated oven for 20 to 25 minutes, or until golden brown. Cool in pan on a cooling rack. Cut crosswise into 4 equal strips, cut each strip into 6 pieces, for 24 pieces.