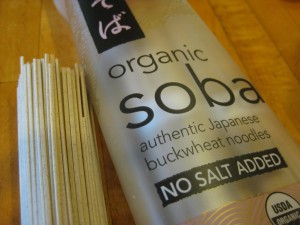 This is a delicious buckwheat noodle salad that can be served hot or cold.
There are many types of buckwheat noodles available. Read your label carefully. You might want to start out with a blend.
Buckwheat noodles are hearty with a delicate texture and lend themselves to a wide assortment of vegetables and marinades.
Prep Time: 20 minutes
Serves: 6
Ingredients:
½ cup dried mushrooms
1 tbsp. Eden Tamari Sauce
½ lb. buckwheat noodles (soba)
(60% whole wheat, 40% buckwheat)
1 tbsp. toasted sesame oil
1 English cucumber
3 tbsp. chopped fresh coriander
1 bunch spinach, washed and dried
1 tomato, cut in wedges
Dressing:
2 tbsp. sesame tahini or crunchy peanut butter
2 tbsp. Eden Tamari Sauce
¼ cup Eden Red Wine Vinegar
¼ tsp. cayenne
2 tbsp. Eden Toasted Sesame Oil
1 tbsp. fresh gingerroot, minced
1 clove garlic, minced
Method:
Place dried mushrooms in a small bowl and add boiling water to cover. Add Tamari and stir. Let stand covered for about 15 minutes, while you prepare the rest of the salad.
Cook noodles in large pot of boiling water until al dente, about 5 minutes. Drain, rinse with cold water. Toss with oil in bowl.
When mushrooms are soft, drain and rinse thoroughly to remove grit. Squeeze out moisture. Cut off stems and discard. Cut caps into slivers. Thinly slice one half of cucumber. Dice remaining half. Toss noodles with mushroom slivers, diced cucumbers, coriander and dressing. Line bowl or platter with spinach leaves, sliced cucumber and top with noodle mixture. Garnish with tomato wedges and serve.
For dressing, whisk ingredients together in bowl until combined, about 2 minutes.