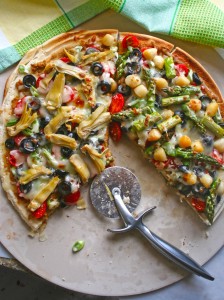 Preheat grill to low.
1-1/3 cups (330 mL) canned, drained red lentils or aduki beans, divided
1 can (14 oz/398 mL) canned artichoke hearts, drained and divided
1 clove garlic
½ to 2 tsp (2 to10 mL) chili powder
½ tsp (2 mL) salt
1 Tbsp (15 mL) toasted sesame oil
¼ cup (60 mL) yellow cornmeal
1 lb (500 g) pizza dough (page xx)
1 cup (250 mL) grape tomatoes, sliced in half
1-¼ cup (310 mL) shredded mozzarella cheese, divided
½ cup (125 mL) thinly sliced green onions
½ cup (125 mL) pitted black olives, thinly sliced
2 Tbsp (30 mL) chopped fresh basil
1. Combine 1 cup (250 mL) lentils, 2 artichoke pieces, garlic, chili powder and salt in a food processor. Process for 3 seconds and add oil through opening in the lid. Process until the mixture reaches the desired consistency: chunky or smooth. Transfer to a bowl and stir in remaining lentils.
2. Sprinkle cornmeal onto a large baking sheet. Roll out the dough into a 14-inch (35cm) round on a lightly floured surface. Transfer the round to the prepared baking stone making sure the underside of the dough is coated with cornmeal.
3. Slide the crust onto the grill rack–do not cook on the grill using the stone or baking sheet–and pierce the dough using a fork. Close lid. Cook for 4 minutes or until the underside is lightly browned. Using tongs or a large spatula, flip the crust and slide back onto the baking sheet. Close the lid of the grill to keep it hot.
Dress the Pizza
Slice remaining artichoke pieces and assemble all other vegetarian pizza toppings. Cook scallops and asparagus pieces as directed below.
Tip 1: To cook pizza in the oven, follow steps 1 to 3 above and dress the pizza following steps 1 through 7. Preheat the oven to broil (550° F/xx° C). Broil.
Tip 2: Use any canned bean. I really like the size and color of red lentils or aduki beans. Serve with salsa, sour cream or extra grated cheese. Grilled pizza melts the cheese so evenly.
Tip 3: The type of grill you use will affect the shape of your pizza. After grilling the bottom of the crust, the dough needs to sit over the indirect heat source of your grill ( to avoid scorching). It all depends on the number of burners involved. If you have a 2 burner grill, turn off one burner and put the dough with toppings back over the burner you have turned off. It is called Indirect Grilling. There is no heat directly under the food. Your grill must have a lid. The lid turns the grill into a convection oven and cooks your pizza.
Makes one 14-inch (35cm) pizza (3 to 4 vegetarian or 3 to 4 meat servings).
The recipe for Lentil Artichoke Grilled Pizza is from the book Everyday Flexitarian: Recipes for Vegetarians & Meat Lovers Alike.Photo by Pat Crocker.