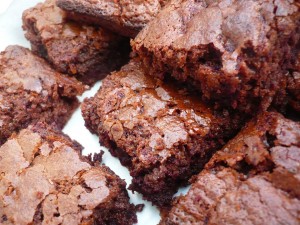 This Chocolate Beet Brownies recipe is a crowd pleaser at any party!
Recipe tip: Roasting beets in the oven is really easy. Just wrap them in aluminum foil, poke some holes, and place on a parchment paper lined baking sheet in the oven at 400⁰ F for 75 minutes (until soft enough to pierce). Use your leftover beets for a delicious addition to a salad or side dish.
Ingredients:
8 oz roasted beets (2 small/1 medium beet, peeled)
8 oz unsalted butter (2 sticks – 1 cup)
¾ cup dark brown sugar
¾ cup white sugar
4 eggs large
1¼ cup cocoa powder
1 tsp salt
1 tsp baking powder
1 tbsp pure vanilla extract
¾ cup unbleached white flour
1 cup chocolate chips, preferably 60 percent or more cacao
Method:
Preheat oven to 350 degrees.
Puree roasted beets in food processor until smooth.
In a medium pot over low heat, melt butter. Turn heat to medium-low and add both sugars. Stir until the sugar is dissolved, about 2–3 minutes, and remove from heat.
Beat the eggs on medium with a mixer for about 2 minutes. Add cocoa powder, salt, baking powder and vanilla extract, and incorporate well.
Add pureed beets and butter-sugar mixture and mix well. On low speed, add flour and then chocolate chips, scraping the sides as needed.
Butter a 9 x 13 pan generously, add batter and bake 30 minutes until knife comes out clean or with just a few crumbles. Cool in the pan before turning out onto a cooling rack.
Enjoy!