When I was a vegan university student trying to eat organic, Fair Trade chocolate desserts on a budget, almost every dessert I whipped up started with affordable chocolate chips. I like to nibble, hence the bark recipe. Little pieces of confection satisfy me for hours.
MAKES 1 LB (500 G)
Ingredients:
2½ cups (625 mL) chocolate chips
3 Tbsp (45 mL) cocoa powder
2 Tbsp (30 mL) coconut oil
2 Tbsp (30 mL) crystallized ginger, finely chopped (see Recipe Note)
½ cup (125 mL) dried cherries
½ cup (125 mL) dried apricots, chopped
½ cup (125 mL) coarsely chopped walnuts
½ cup (125 mL) chopped almonds
⅓ cup (80 mL) dried unsweetened coconut
Method:
In the top of a double boiler or a heatproof bowl set over a pan of simmering water (don't let the bottom of the bowl touch the water), place chocolate chips, cocoa powder, oil and ginger. Stir until the chocolate is melted. Remove from the heat.
Add half of the cherries, apricots, walnuts and almonds and 2 Tbsp (30 mL) coconut. Mix well. 3. Spread mixture evenly onto a parchment paper–lined, rimmed baking sheet. Sprinkle top with remaining cherries, apricots, walnuts, almonds and coconut. Chill in the refrigerator for 25 minutes or until firm.
Peel off the parchment paper and break bark into bite-sized pieces before serving.
RECIPE NOTE
Store refrigerated for up to 1 week. It never lasts that long.
About Dried Fruits
Dried fruit should be treated as a perishable ingredient with a long shelf life. Store dried fruit in airtight containers at room temperature away from light, heat and above all, moisture. Stored properly, it should last at least 4 months.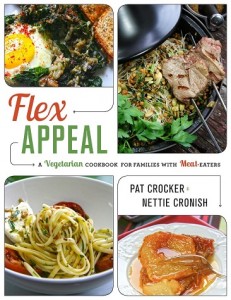 This chocolate chip bark recipe is from my latest cookbook Flex Appeal, which is all about cooking for families that have multiple tastes and needs and putting healthy and delicious meals on the table in 40 minutes or less. You can purchase it online through Amazon and Chapters Indigo or in store at All The Best Fine Foods.