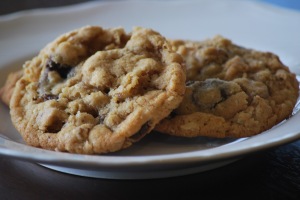 These gluten & dairy free oatmeal chocolate chip cookies are delicious. Easy to prepare, everyone can enjoy these cookies. Use Fair Trade sugar and chocolate chips.
Makes: 3 dozen (36 cookies)
Preheat oven to 325⁰F
Ingredients:
1 ¾ cups Bob 'S Red Mill All Purpose Gluten Free Baking Flour
1 cup brown sugar
½ cup Bob's Red Mill Gluten Free Oats
¼ cup ground flax meal
1 tbsp ground cinnamon
1 ½ tsp xanthan gum
1 tsp baking soda
½ tsp salt
1 cup melted coconut oil
½ cup unsweetened applesauce
1 tbsp vanilla extract
1 cup dairy free chocolate chips
Method:
1. Line 2 rimmed baking sheets with parchment paper and set aside.
2. In a medium sized bowl, mix together flour, sugar, oats, flax meal, cinnamon, xanthan gum, baking soda, and salt.
3. Add coconut oil, applesauce, and vanilla. Stir. Add chocolate chips. Stir until evenly distributed.
4. Drop cookies by the tablespoon onto prepared baking sheets.
5. Bake for 8 minutes. Rotate baking sheet. Bake for another 8 minutes.
6. Allow to stand for 15 minutes before serving.